B'Day is the second studio album by Beyoncé, released in the United States on September 4, 2006 on her twenty-fifth birthday. The album was originally planned to be released in 2004 to follow-up her debut album Dangerously in Love (2003). However, the project was put on hiatus due to the recording of Destiny's Child's final studio album, Destiny Fulfilled, and her role in the film Dreamgirls.
Track Listing
Edit
Length: 37:40
North American deluxe edition:
International edition (hidden and bonus tracks)
Check on It (featuring Bun B and Slim Thug)
Length: 41:32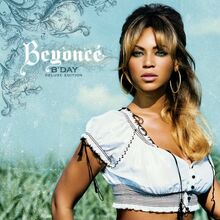 NOTES:
"Déjà Vu"; Released: June 24, 2006
"Ring the Alarm"; Released: September 10, 2006
"Irreplaceable"; Released: October 26, 2006
"Beautiful Liar"; Released: March 5, 2007
"Get Me Bodied"; Released: July 10, 2007
"Green Light"; Released: July 30, 2007
The album debuted at number one on the US Billboard 200 chart, selling 541,000 copies in its first week, the highest debut-week sales of Knowles. The album has been certified triple platinum by the RIAA. It was also successful in international music markets and yielded six singles, including three commercial hits: "Déjà Vu", "Irreplaceable" and "Beautiful Liar".
Beyoncé was honored with several award for her B'Day album including a Grammy for Best Contemporary R&B Album. Check out the rest below!
| Awards ceremony | Year | Work title | Award |
| --- | --- | --- | --- |
| BET Awards | 2007 | "Irreplaceable" | Video of the Year |
| Grammy Awards | 2007 | B'Day | Best Contemporary R&B Album |
| Ivor Novello Awards | 2008 | "Beautiful Liar" | Best-Selling British Single |
| Music of Black Origin Awards | 2007 | "Déjà Vu" | Best Song |
| Music of Black Origin Awards | 2007 | "Déjà Vu" | Best Video |
| MTV Music Video Awards | 2007 | "Beautiful Liar" | Most Earthshattering Collaboration |
| Nickelodeon Kids' Choice Awards | 2007 | "Irreplaceable" | Favorite Song |
| OVMA | 2007 | "Beatiful Liar" | Best Choreography in a Video |
| Soul Train Music Awards | 2007 | "Irreplaceable" | Best R&B/Soul Single, Female |
| World Music Awards | 2006 | B'Day | World's Best-Selling R&B Artist |
B'Day